Date Published:
September 30th
Publisher: Up and Up Media
"Imagine not being able to sleep without worrying about which country you will wake up in…"
Tagden Fitts has a problem, besides his name. His sleepwalking self is a traveler; a past-time he would rather avoid and his travels are beginning to take over his life. Destroying any chance of a real relationship or career, he spends his time chasing after his own body, dreading the night when he will finally wake up in a situation too deep to handle.
"I wrote this story trying to imagine a character completely different from myself. Someone who hates travel, but is thrust into it without choice."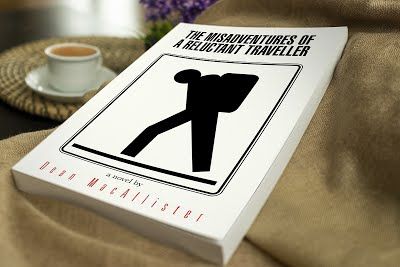 Terry wakes up screaming, wrapped in his sheets. He grabs his chest and his head spins with adrenalin. He tries breathing but feels winded and it takes what feels like a decade for him to slow his heart, take deep breaths, and realize where he is.
His sheets are soaked with sweat, his pillow with tears. He sits on the end of the bed and breathes quietly, fighting to get control of his mind and body.
Turning his head, Terry looks at the alarm clock. It's nearly 7:00 a.m.
At least it isn't midnight, he thinks. He never gets back to sleep after one of these dreams. If dreams are what you call them. His doctors always referred to them as night-terrors, but unfortunately, besides having a name for it, the doctors didn't seem very useful.
He's run out of sleeping drugs again and it's killing him. Unfortunately, most doctors are reluctant to hand out prescriptions for the drugs he needs unless he has physical pain. Even the dodgy doctors seem to give him a look, before telling him they'll only help him out once.
He gets up, walks to his lounge-room in his boxer shorts, and crashes onto his leather couch, wishing it wasn't leather as he sticks to it. This room he's in is massive. The whole apartment is roughly the size of a large house and the views are incredible. The front windows all stare out at the Persian Gulf, while the back rooms look out over Dubai. He's been here a while with wealth rolling in. Real money. Oil money. Long way from being the poor, useless boy he'd grown up as.
People in this area knew him. Anyone looking at him, his place, his job and the way he dresses, would think that he is successful. He doesn't know, though, what that word is supposed to mean. To most people, he's met successful seems to mean someone who makes a lot of cash. To him, however, the word means succeeding in all areas of life, and this is not the case with him.
Terry looks over to the pictures near the window. His daughter is smiling so happily that it can only be the smile of a child. His wife in the picture next to it is holding their daughter and she, too, has a smile on her face. He wonders how tall his daughter is now. He wonders how his wife's jaw reconstruction went. He also wonders about which sex his other child is. The one he's never met.
His nightmares have taken everything away from him. Well, nearly everything. He still has his millions. He still has this apartment too, for the time being, but once his cash runs out, and it will, he'll have to sell this place and leave this country. He doubts that he'll be able to find many more architectural jobs in this country after this contract ends. All that's left to do will be the editing and printing out of the As-Builts, which his partner will probably end up doing, and then he'll be on his own. Construction is slowing down.
He isn't old enough to retire.
He doesn't like sea travel, always sick on the yachts of his workmates.
He has no idea what the rest of his life might offer, but he's sure it isn't anything to look forward to.
About the Author
Dean MacAllister runs a writer's group in Melbourne, Australia. He writes novels and short fiction about the strange and unusual.
He loves to travel, scuba-diving, whiskey and once ate a tarantula. For more of his work visit Deanmacallister.com