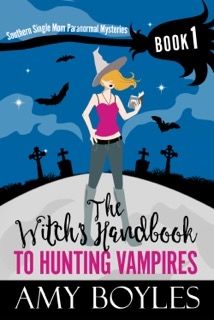 Paranormal/Witch Cozy Mystery
Date Published:
September 5, 2017
Andie Taylor is your average single mom. She's got a beautiful toddler, a great job at the local preschool, a neurotic best friend and one huge secret—she used to hunt vampires. Now retired, Andie would much rather be wiping kid snot off her clothes than stalking the undead.
But after a meteor rips through her small town, strange things start happening—like the school janitor is found dead with fang marks in his neck.
Andie's retired, it's not her problem.
Until vampires attack Andie on her front lawn. Now she has to figure out who the head bloodsucker is and stop him from taking any more victims—all while juggling single motherhood, a crazy great aunt, and Andie's own lust for a fallen angel. Can she solve the mystery before the vampires claim someone else? Or will she become the next target of the bloodsuckers?
ONE


"Expect the unexpected, especially when it comes to relatives."
—The Witch's Handbook



My great-aunt Dot decided to poof into my life at the exact same moment I was talking my best friend down from the comet-pocalypse that was about to hit our town.
Literally—on both fronts.
I waved away a shimmering cloud of silver dust and came face-to-face with a pink-haired, feather-jacket-wearing seventy-year-old.
"Andie, get off the phone." Aunt Dot pulled off a pair of matching feather gloves and tossed them on a side table by my turquoise front door.
I placed a hand over the receiver. "I've told you a thousand times, I don't want you working magic in my house."
"We've got bigger fish to fricassee than your stupid rules."
"I don't want Gabby to see."
Dot's blue eyes sparkled. "Oh? Where is the little munchkin?"
I nodded toward the bedroom. "In there. Sound asleep." I wagged a finger at her. "Don't you change that."
My newly acquired geriatric companion shuffled off to not wake my two-year-old daughter, who happened to be the love of my life. I sighed and put the phone back to my ear.
Kate panted into the line. "It's the end of the world, Andie! I just know it."
I grimaced. Kate McCall, my best friend and cohort in crime, pierced my eardrum with her shrieks of the apocalypse.
"It's not the end of the world," I said soothingly.
"Go look. Missy Burke's already rode down my street calling it that. If she says it's the end, then it probably is. That woman's got her finger on the pulse of this town."
"More like her nose up its rear end," I said.
"Andie. Be nice." Kate paused. "Never mind. I love you the way you are."
I opened my front door and stepped out. A cold October wind ripped over the porch. I rubbed my arms to warm them. Boards in desperate need of a fresh coat of paint creaked under my ballerina flats.
A shiny full-size Ford pickup truck grunted down Cedar Street in my small hometown of Normal, Alabama. The driver bore down on the horn, threw her head out the window and yelled, "It's the end of the world, y'all! The Lord's coming in a comet to set y'all straight."
Missy Burke was nothing if not informative. Dark hair trailed behind her like snakes as the wind whipped across her face.
She pointed at me. "Say your prayers, Andie Taylor. The Lord sees you. He knows where you're going when you face judgment."
Which I took to mean I wasn't going to be standing beside her in heaven. If you asked Missy, she was the most perfect person on the planet and one of the few who'd get through the pearly gates.
I gave a friendly wave. "He sees you, too, scaring the good folks in this town half to death. You should be ashamed of yourself, Missy."
Missy scrunched up her face and swatted at me as if I didn't matter.
"Missy Burke just told me I was going to hell," I said over the line.
"I'll probably see you there," Kate said. "I don't think I prayed enough, Andie. St. Peter's going to tell me I need to turn right back around and go the other way."
I laughed. "That's not going to happen. You're a great person. St. Peter's going to be excited to have you."
With Missy gone, the night had quieted but for a white light shining in the distance. It looked like a star except it was getting bigger by the moment. "It's a comet. Nothing to worry about."
"It's pretty bright. It's going to hit my house."
"Listen, I'll keep an eye on it. If it looks like it's going to destroy your house, I'll call you."
"Thank you. Mwuah." She kissed the phone. "You're the greatest friend in all the world."
"I try."
We hung up, and I went inside, immediately wondering if I had any chocolate in the house. I entered the kitchen, opened the fridge and found a bottle of syrup. Dot's presence always stressed me out. I flipped the lid and squirted some in my mouth.
Better. Now I was ready to face my great-aunt. I crossed back to the living room.
Dot entered and started zipping up all the blinds.
"What are you doing?" I said.
"We've got to keep an eye on that comet. It's not a natural phenomenon, Andie. It's something magical."
"It's always about magic with you," I mumbled. "Did you show up just to make my life complicated?"
Dot plumped her pink hair. "Of course not, but you're a hunter and a witch. It beats me why you won't use your powers."
I crossed my arms and leaned against the front door. "Was a hunter. Witchcraft causes more problems than it's worth. You of all people should know that."
Dot withered a bit. I instantly felt a pang of guilt, but the truth was the truth.
"Mom died because of magic."
Dot shook her head. "Your mother died because she called something she couldn't control. It nearly killed all of us."
I flared my arms. "That's in the past. I don't need magic and I don't want it. My life is perfectly normal exactly as it is, and I want to keep it that way."
Neither of us said anything. I waited a moment, letting the tension in the room dissolve.
Dot shrugged off her jacket and threw it on a chair.
"You're not staying long, are you?" I said.
Please, don't let her be staying long.
She plopped onto the couch and kicked up her feet. "I don't know yet. Depends on what that comet brings."
"How about some stardust and that's it."
Amy Boyles grew up reading Judy Blume and Christopher Pike. Somehow, the combination of coming of age books and teenage murder mysteries made her want to be a writer. After graduating college at DePauw University, she spent some time living in Chicago, Louisville, and New York before settling back in the South. Now, she spends her time chasing two toddlers while trying to stir up trouble in Silver Springs, Alabama, the fictional town where Dylan Apel and her sisters are trying to master witchcraft, tame their crazy relatives, and juggle their love lives.
Amazon
Giveaway
$50 Gift Card & more!