GUEST POST
As a writer, I have a list of a few "must-haves" for when I'm spending the day at my keyboard. Some of my personal "must-haves" are more atmospheric/environmental, and others are tools or skills that enhance productivity, and those "must-haves" include:
1.) Water/Coffee – Proper hydration is not to be ignored! Coffee is integral in boosting my motivation (and keeping me alert), but water is a close second. Don't want to go thirsty while I'm hammering out character details and plot-lines. I even have a favorite cup; it's a tumbler with the members of the Fellowship of the Ring on it. Don't judge me.
2.) Thesaurus/Dictionary – Honestly, I still get tripped up and need resources to help me come up with a new word (I occasionally fall into the trap of overusing certain words) or check the meaning to make sure it's the appropriate choice. Don't want to hit the 'CTRL+F' keys and discover I've used "strange" 79 times in one draft.
3.) Music – I'm one of those folks who can't accomplish anything in total silence; I need some sort of sound going to keep the creativity flowing. Some days it's a light instrumental/soundtrack kind of writing session, others it's rock/folk, sometimes mainstream pop.
4.) Self-Editing/Awareness – When looking at my own work, it can be difficult to pinpoint what needs to be changed altered, but over time, I've gotten better at isolating what I need to work on, and letting my writing process evolve to help minimize bad habits. It's difficult to realize that something you've written doesn't evoke what it should or just doesn't achieve the right flow, but recognizing the changes that must be made and executing those changes is rewarding in its own right, even if it means cutting out parts of a story you're proud of.
5.) Yoga ball chair – Comfort is important, but so is posture! I have a terrible tendency to slouch and I develop back pain quite a lot, but a good chair helps me (and my spine) out.
6.) Be open-minded – I used to hate sharing my writing with others because I feared negative opinions, but that's no mentality for a writer to have. Multiple perspectives have opened my eyes to issues (and strengths) that I would never have noticed on my own. When I was working on I'm With You, my editor, Erica, told me what worked and what didn't work, and it was tough for me to process at first. But when I re-examined my draft, I realized that she was right, and her advice was valuable in helping me produce a version of the story I could be proud of. It's not fun to get criticized, and sometimes it's important to defend your choices, but it's crucial to be open to change and use constructive feedback as fuel for improvement.
ABOUT THE BOOK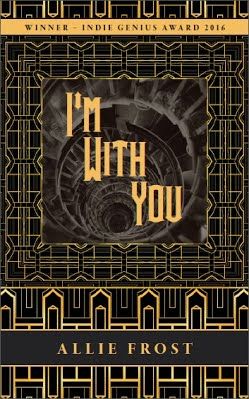 Date Published:
9/26/16 (Print) 10/18/16 (eBook)
Publisher: Dragon Tree Books
When fifteen-year-old Ciarán Morrigan eavesdrops on a conversation between his father and two mysterious strangers, his life—and the life of his little sister, Remiel—is changed forever. After their father makes a startling decision, the Morrigan siblings are forced to flee the only life they've ever known and embark on a dangerous adventure across the nation of Empirya. With the enlisted help of a disinherited vagabond, a cynical violinist, a fire-juggler with a fierce temper, an aspiring mechanic, and a cheerful librarian, Ciarán and Remiel must fight to escape the clutches of lethal pursuers. Their journey carries them through smog-filled cities, dark forests, humble towns, and perilous mountains, but will Remiel's dark secret and ghosts from the past prevent the Morrigan children from finding a place they can truly call home?
Winner – Indie Genius Award from Dragon Tree Books
Winner – Literary Titan Book Award (Gold) June 2017
EXCERPT
The man in the chair fidgeted. I still couldn't see his face, but his voice was deep and rich. "You mean to tell me that your twelve-year-old daughter is responsible for the death of your wife? Forgive me, Ernest, but this sounds a little… far-fetched."
My father ran a hand through his tangled, graying hair. "I assure you, Maverick, Dahlia…" He looked at them in turn. "This is no deception. I curse the day that child was born!"
"Ernest," the woman—Dahlia—said, "I know the papers didn't go into detail about your wife's death, but I find it hard to believe that your daughter—"
"She is at fault!" Father insisted. "My wife was not the first victim. There have been others. That demon must be stopped before she kills anyone else!"
Others
. I knew what Father meant, but none of it had been Remiel's fault.
The man in the chair chuckled. "I must say, Ernest, from what I've seen in pictures, the girl greatly resembles—"
"I know!" Father slammed a fist on his desk. "I know what she looks like! But she deserves this, for killing my wife! For killing her own mother!"
Anger stewed in my chest. I wanted to storm into the room and defend my little sister, but the next snippet of conversation rooted my feet to the carpet.
"And your son?" the man asked. "What has he to do with this?"
Father buried his face in his hands, and his voice was muffled by his fingers.
"I don't want Ciarán involved."
His words provided no consolation. If Father wished harm on Remiel, he was condemning me along with her.
Allie Frost was born in 1992 and has spent most of her life in rural Pennsylvania. She attended Western New England University and graduated in 2013 with a degree in English Literature and Film Studies. During her college years, she studied in England and began working on the story that would become her debut novel, I'm With You. When she isn't writing, she enjoys playing video games, reading, traveling, and going to the movies, and she only likes dark roast coffee or very sugary lattes, but nothing in between. More information is available at thealliefrost.com.