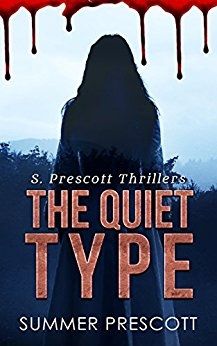 Tim and Susannah have ordinary lives on the surface, he's a mortician for whom death is a serious business, and she's a chef who really knows her way around a knife, but if the neighbors in their small Midwestern town knew of her dark hobby, they'd run for the hills.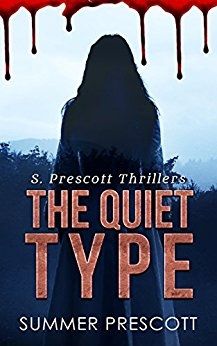 Date Published:
April 18, 2017
Tim and Susannah have ordinary lives on the surface, he's a mortician for whom death is a serious business, and she's a chef who really knows her way around a knife, but if the neighbors in their small Midwestern town knew of her dark hobby, they'd run for the hills.
Raised by an apathetic mother and a cruel father, Susannah was bullied and pushed to her breaking point long before she met mild-mannered Tim, and has learned to channel her murderous impulses into a strange form of art, which keeps her clueless husband safe…for now.
As strange events occur, and Susannah's eccentric behavior becomes more dynamic, Tim starts to wonder about his wife. Will he be too perceptive for his own good?
This twisted, psychological, serial killer thriller will sear your psyche and rattle your soul, so buckle up, you're in for a terrifying ride.
CONTENT WARNING: If you are a reader of Summer Prescott's Cozy Mysteries, please be advised that this book depicts the actions and mindset of a serial killer, contains some adult language and adult circumstances.
Early parent/teacher conferences had pegged little Susie as an angry child who didn't get along with others, which led to wretched things. The punishments at home for bad reports were worse than the punishments at school, so she'd learned to keep her seething resentment to herself. She'd kept it to herself for so long, in fact, that she'd grown numb emotionally. Even when battered and taunted mercilessly by thoughtless and cruel classmates, she compressed her mouth into a thin line and kept her head down, waiting until she got home to pick the spitwads from her colorless and tangled hair, and to dab a cold cloth on the welts made by well-aimed rubber bands.
At home, she taught herself to withhold tears from the monster who tried his best to encourage them. When she was stripped naked and whipped with kitchen utensils, belts, shoes, or any other handy device, when she was locked into the chicken coop for days at a time, not even allowed to sleep in her bed or relieve herself in private, and even when she was denied food after the beast who spawned her poked at her soft, white flesh, declaring her to be a fat pig, she'd bite the inside of her cheeks, dig her nails into her palms, or even hold her breath if necessary…but she Would. Not. Cry.
Her goal was simple, wait for the herd of cattle to get out of her way, and get to her seat without bringing any attention to herself. She'd had a rough morning at home, and her nerves were sprinkling dark sparks into her psyche. Susannah was more than ready to immerse herself in the orderly realm of math, glorious math. So focused was she on getting to her seat, that she never saw the furtive foot, encased in an expensive running shoe, darting out like the tongue of a serpent, tripping her.
Arms full of books, the gawky teen hit the ground hard, her head knocking against the metal leg of a desk. There were a few gasps, and more than a few giggles, and when Susannah turned over, stunned, still clutching her books, the concerned frown of Mr. Davis loomed over her.
"Susannah…are you okay? What happened here?" he asked, the cuff of his polyester pants brushing against her arm.
She sat up slowly, dazed, a trickle of defiantly crimson blood running down her forehead, and over the soft round of her cheek. Her heavy glasses were askew, and she pushed them up absently, horrified that every eye in the class was upon her. She flushed bright red from the base of her neck to the roots of her hair, as she heard the guffaws and soft pig sounds of her classmates. Humiliation was an overwhelming emotion that couldn't be stopped, even with years of conditioning. It slammed into her with brute force, threatening to steal the very breath from her lungs. Her head throbbed with it, her mouth turned to cotton, and beads of sweat sprung out on her forehead as she worked to control the tremors which rippled through her. It took her a couple of tries, while the teacher blathered on with his concern and his questions, asking if she needed to go to the nurse, but she rolled herself onto her knees, and leaning on the desk that had struck her, she rose shakily to her feet.
Debbie Moran. Smug, snooty, Debbie Moran was smirking at her, enjoying the result of her sly move. Until this moment, Susannah hadn't loathed her more than any of the other simpering American princesses who glided through the halls as though their nimble feet didn't even touch the chipped linoleum, but now…it was different. Now, dainty little Debbie Moran made something dark rise up inside Susannah the Sow, as her classmates called her, something darker than the judgmental little bitch was prepared to deal with. So dark that it made her heart pound. So dark that it made her mouth water. Soon, Debbie Moran, soon.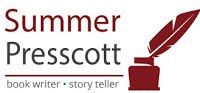 Summer Prescott is well-known in the Cozy Mystery realm, having written and published several Best-Sellers in the genre. An avid reader of Thrillers, Horror and Suspense, the author has decided to follow her passion with the debut of her Thriller, The Quiet Type, which launched in the top 50 of the Serial Killer category on Amazon. The novel has received high praise in its reviews, and Summer is considering a possible trilogy or series to continue the story.