Historical Fiction / Adventure
Date Published: August 2015
In an age ruled by iron men, in a world of new discovery and Spanish gold, a young Irishwoman named Mary rises from the ashes of her broken childhood with ships and men-at-arms under her command. She and her loyal crew prowl the Caribbean and prosper in the New World for a time until the ugly past Mary has fled from in the old one finds her.
Across the great ocean to the east, war is coming. The King of Spain is assembling the most powerful armada the world has ever seen - an enormous beast - to invade England and depose the Protestant "heretic queen." To have any chance against the wealth and might of Spain, England will need every warship, she will need every able captain. To this purpose, Queen Elizabeth spares Mary from the headman's axe for past sins in exchange for her loyalty, her ships and men.
Based on true historical events, this is a tale about war, adventure, love and betrayal. This is a story about vengeance, this is a tale of heartbreak…
Recent Praise for The Butcher's Daughter:
"... a pleasurable and action-packed read ... a delicious spin to the otherwise tired clichés of male captains ... the joy of the open seas - as well as the danger churning below - pulses throughout this rip-roaring, hearty tale of the high seas." - Kirkus Reviews
"... an entertaining read ... full of authentic historical events ... a defiant story, a narrative of strong will and perseverance which ultimately plummets to a tragic end." - Readers' Favorite
"... a historic adventure ... a beautiful romance ..." - Bargain Book Reviews (5x5 Stars)
"A wonderful novel in the best tradition of maritime literature ... authentic and rich with details, the characters are alive and passionate, and the plot is full of thrilling action, intense drama, and stunning surprises ... [an] exhilarating adventure ... an unforgettable journey ..." - The Columbia Review
You can add borders to HTML scroll boxes using the CSS 'border' property. Borders can be of any thickness, and any color. You can specify whether it's solid, dotted, dashed, and more. You can also specify a different border for each side of your scroll box.
About the Author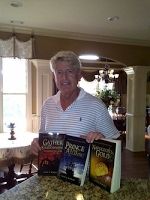 Mark McMillin is a general counsel for a company in the aviation industry. His home is in the Atlanta, GA area.